Erudite
Crack CAT WAT & GDPI Rounds with our GD, PI & WAT Training in Kolkata
After the CAT Exam, start your preparations the Group Discussion, Personal Interview and Written Assessment Test (GD-PI-WAT) rounds. Join Erudite and crack your WAT & GDPI process that most top B-Schools conduc. Erudite offers the most extensive GD, PI & WAT training in Kolkata.
Reasons why Erudite CAT GD PI Training in Kolkata to help you devise a personalized strategy.
Know Who We Are
What Students Say About Our MBA GD PI Training in Kolkata
MBA GD PI & WAT Training in Kolkata with Erudite was very informative, innovative and insightful. These sessions were one of the most important reason for me to crack my interview round at al the IIMs. I am grateful to entire Erudite team for helping me during GDPI preparation for mba Journey.
For CAT Coaching in Kolkata Visit our Course Page
Erudite is rated as one of the finest CAT Coaching Coaching institute in Kolkata for Last 3 Years.
What is Erudite CAT GD-PI-WAT Training in Kolkta?
Post CAT exam, the focus shifts to GD-PI-WAT. entirely. Erudite helps you thoroughly with sure shot converting techniques along with lifelong skills to excel in the B-school of your dreams. and beyond with our MBA GD/PI/WAT Training in Kolkata.
Unique pitch crafted by Erudite Profiling Maestro keeping in consideration your Strongest & Weakest abilities ensures that perfect positioning of oneself in front of the PI panel members on the D-day!
The Unparalleled Personalized Guidance session & minute detailing of your Academics, Co-Curriculum and Extra-Curricular activities reflect the consistency of a CV which leaves no room for P.I panel not to include you in the final select.
Awards as Best Test Prep Institute
Director's Batch
GD PI & WAT Training
PI Skill
GD skill
Mock GD
WAT Session
Industry-based Sessions
Sectoral Classes
Video Recorded Mock P.I.
Form Filling
General Awareness
Profile Session
Communication Class
Body Language
Budget Session
PREMIUM [only for premium calls]
PROFILING – unlimited
Institute Specific TRAINING
Individual Form FILL-UPS
unlimited SOP Sessions
Mock P.I
Sp Jain Group Interview
Get Scholarship PI/WAT/ GD Training based on your CAT Score
Up to 95% Scholarship based on your CAT scores.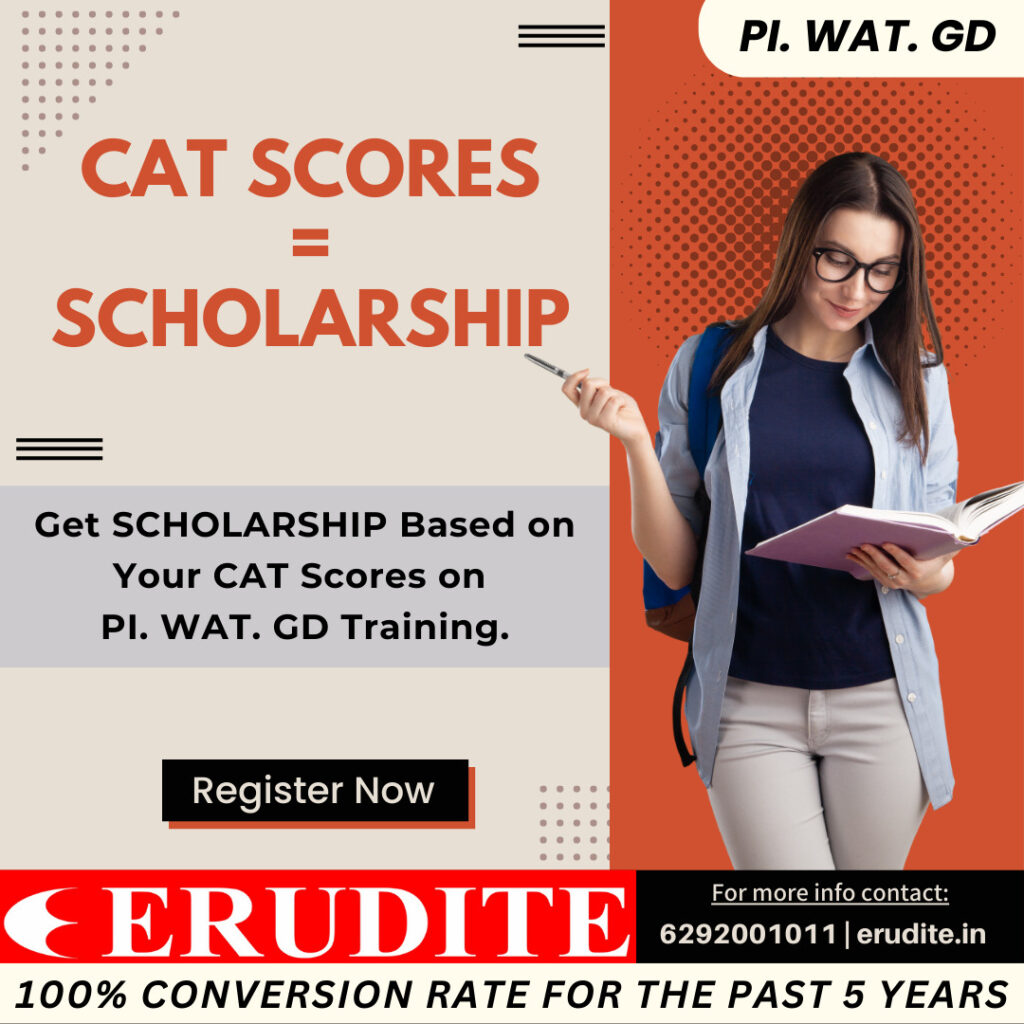 Testimonials
Hear it directly from the students why Erudite is most preferred CAT GD & PI Training institute in Kolkata.
FAQ Related to GD PI & WAT Training