Erudite
CAT Self Paced Learning
Our Self Paced Learning Course covers the entire syllabus for CAT 2023 along with 25+ full length mock tests, CAT previous year's papers, topic-wise tests and largest question bank of 21505+ questions.
The course is valid till 31st January 2024
Largest CAT Exam Question Bank
Highest Video session library
Oldest CAT Test Prep Institute in Eastern India
All CAT Toppers are from East India
Why Erudite CAT Self Paced Learning?
Self-paced mastering differs from the popular teacher-led, whole-class classes in that it approves college students to use materials and resources to personalise the pace at which they study in class. The self-paced technique approves college students to style their very own studying journey at their personal pace, consistent with their personal pastimes and gaining knowledge of preferences. The position of the instructor is to produce guidance, remarks on proficiency and tailor the coaching surroundings to students' needs.
Self-paced courses don't comply with a tough and quick schedule; they are flexible. The learner no longer is on-line at the same time as the instructor. All of the educating materials are processed at a pace that they are comfortable with and can commit to in terms of time. ERUDITE additionally gives the lecture room recordings, theoretical grappling as idea videos and the category materials to students in video format for them to go through them at their very own pace. Combined with lecture room periods and doubt clearing, they form the perfect combo of pedagogy excellent for the modern-day day.
Creative work
Our Recent Work
How Erudite CAT Self Paced Learning is better?
Some Students understand concepts very fast while some learn at their own pace. The Course is designed to help the students who prefer learning at their own pace through recorded Concept Videos, Practice Questions and their Solution Videos. It offers the highest number of Learning contact hours with comprehensive doubt clearing support.
Mock Tests – 20 Proctored
24 x 7 support on online analysis
All SIM-CATs with Video Recorded Solutions
20 Actual CAT Papers with Video Solutions
185 Topic Based Tests with Video Solutions
3,000 Topic based Questions with Video Solutions
140 Speed Builder Tests with Video Solutions
3,000 Speed Builder Questions with Video Solutions
45 Sectional Tests from Basic to Advanced Level with Video Solutions
24 OMETs with Video Solutions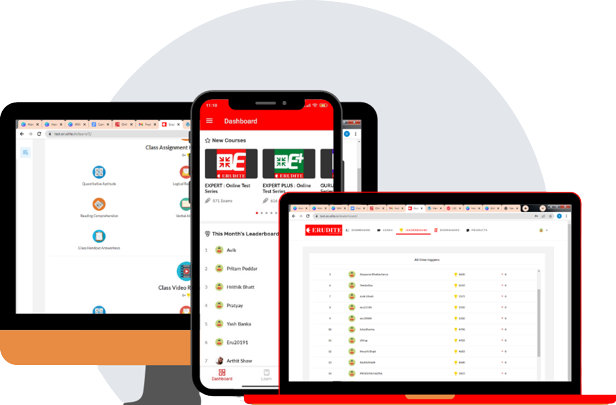 Choose a plan that best fits you...
1,792+ hours of Video Class content
1,034+ Concept Videos for Revision
E -Material with E-Class Assignments
21,505+ Question Bank for practice
20 Actual CAT Paper (With Video Solutions)
45 Proctored Mock Tests with Video Solutions
Detailed Video Solutions of about 20,414 Questions
247+ Topic Based Tests (With Video Solutions)
140 Speed Builder Tests (With Video Solutions)
Sectional Tests covering Basic to Advance Level
38 OMET Mocks
Valid For 1 Year
Latest Blog
Trending Blogs